healthonplants
Regular price
Rs. 100.00
Sale price
Rs. 100.00
Unit price
per
Sale
Sold out
Soy Curd
Our set curds are so thick that you might as well dig a spoon and scoop out a big dollop without breaking its structural integrity. With some R&D, we've been able to eliminate the beany aftertaste many associate with dairy-free curds . It acts and functions just like the 'other' curd. Only better.
Net Quantity: 
350 grams.
Ingredients
 Organic Soybeans, RO Water
Shelf Life
15 Days from the Manufacturing Date.
Storage Instructions
Keep Refrigerated , Do not Freeze. 
use within 2 days after Opening
Texture
curd like.

Taste
Neutral with slight taste of soy beans
Soy curd is an acquired taste. Give yourself a few tries of our rich soy curd before it becomes your favourite.
Use seasonings or spices initially for it to mimic the dairy curd
Usage Instuctions

Basic: Use it like a curd in your raita, lassi, butter mylk, gravies and curd rice,
Creative: Yogurt based cheeze, with Oats, in your smoothies.
Share
View full details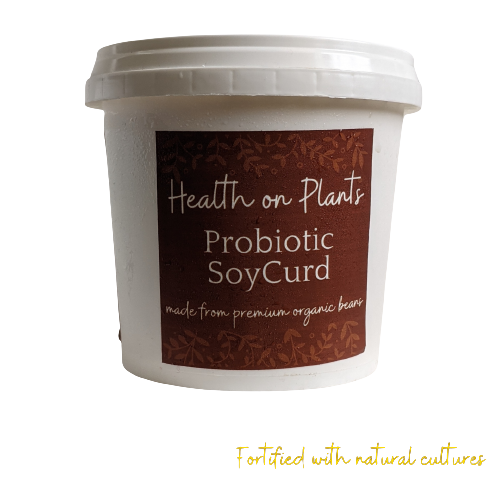 Soy yogurt tasted bitter!!
I was amazed that we get soy yogurt in Bangalore but when we received 2 boxes, yogurt tasted bitter as though it was a really old stock.
Soya Curd bought from you
Four boxes of Soya Curd delivered was too sour and could not be given to the baby. It was very disappointing!!
Extremely Good
I have tried both the soy curd and the peanut curd and the soy curd is ideal to be eaten as it is, the peanut curd is extremely good to be used to make dishes that use traditional curd and I love making buttermilk with it. The only challenge I have is with the amount of plastic such as bubble wrap used to package the product. Else it is fabulous.
Good Soy curd
The Soy curd was good. It was well set, thick and had good texture.