healthonplants
Regular price
Sale price
Rs. 250.00
Unit price
per
Sale
Sold out
Black Beans Tempeh
Black bean was literally and metaphorically a tough nut to crack. It took us months to get the consistency and texture right but Boy oh boy, is it delicious? This one sure is a personal favourite. We had been stuffing it in rolls, burgers, salads, and sides for soup at the office. It is a joy eating something healthy that tastes this good. The health benefits of black beans are endless. High in protein, fiber, and antioxidants while being extremely low in fat! Rich in folate, magnesium, iron, manganese, and thiamine. For a healthy heart, bones, and even eyes - black beans are a total package.
Ingredients

Black Soy Beans, RO Water, Culture.
Shelf Life
7 Days from the Manufacturing Date if refrigerated. 
60 days from Manufacturing Date if Frozen
Storage Instructions
For enhanced shelf life its recommended to freeze. 
Once opened use immediately
Texture
Firm like a cake. This looks like soy beans bound together in white mycelium
Taste:
A Tempeh is mushroomy , nutty and earthy in taste. It is slightly chewy.
Tempeh is an acquired taste. This means you need to try it for a few times to get accustomed to the taste and mouthfeel of tempeh.
Cooking Instructions: 
If you are tasting/cooking tempeh for first time we recommend you use our ready to eat air fried tempeh with cashew peanut/cashew tomato gravy.
A tempeh needs to be steamed, fried or baked first. Traditionally in Indonesia it is deep fried before eating. 
Do not eat raw tempeh. 
Recipes:
Basic : you can bake, airfry , deep fry or steam the tempeh and use it any salads, gravy of your choice. Following gravies enhance the taste of tempeh: 
Coconut mylk based gravy, peanut cashew gravy, tomato cashew gravy, thai green gravy.
Creative recipes: Scrambled tempeh in sandwiches, tempeh meatballs.
Share
View full details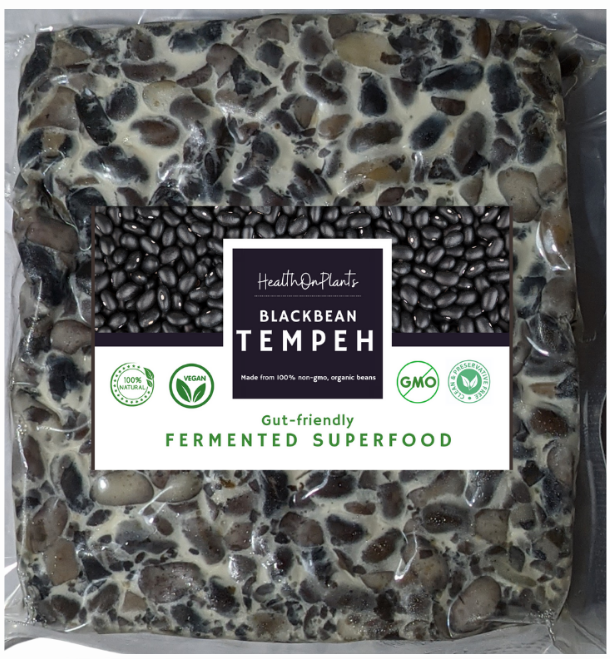 Amazing taste and texture, so versatile
Have been purchasing tofu and tempeh from HOP for over 2 years. Love all their products. Excellent taste and nutritional value. The black bean tempeh is very unique and is amazing in stir fries
This is my favourite tempeh!
I found the smell and texture more appetizing than regular tempeh. It also tasted better in a variety of things like curries and pasta sauce.